CLIMATE: Our Right to Breathe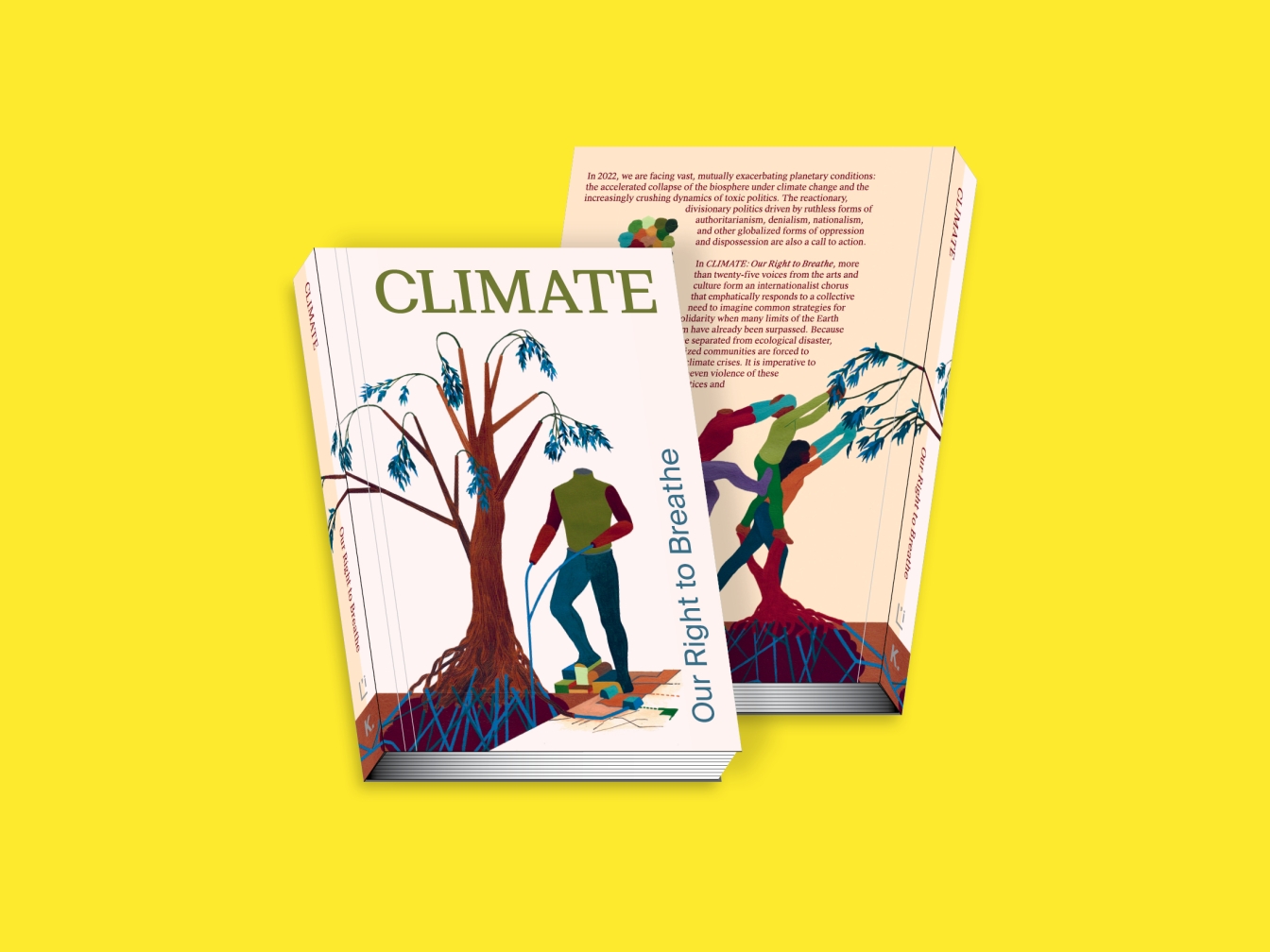 Cover image: Otobong Nkanga, Whose Crisis is This?, 2013. Acrylic on paper, two parts, 29.7 × 42 cm. Image courtesy of the artist. Book design by Christophe Clarijs in collaboration with K. Verlag.
Climate: Our Right to Breathe is a book in response to vast, mutually exacerbating planetary conditions: the accelerated collapse of the biosphere under climate change and the increasingly crushing dynamics of toxic politics. But, the reactionary, divisionary politics driven by ruthless forms of authoritarianism, denialism, nationalism, and other globalized forms of oppression and dispossession are also a call to action.
In L'Internationale's most recent published anthology, more than twenty-five voices from the arts and culture form an internationalist chorus that emphatically responds to a collective need to develop common strategies for solidarity when many limits of the Earth system have already been surpassed. Because racialized capitalism cannot be separated from ecological disaster, vulnerable and often marginalized communities are forced to endure the worst effects of the climate crises. It is imperative to work in solidarity against the uneven violence of these times. Mobilized by diverse practices and backgrounds, the contributions in this book offer both speculative perspectives on and pragmatic relays from the intersectional fight for climate justice and multispecies survivance.
The book is published by L'Internationale Online and K. Verlag.
Contributors: Maria Thereza Alves, Marwa Arsanios, Eduardo Carrera R, Sebastian Cichocki, Fernando García-Dory, Léuli Eshrāghi, Ayesha Hameed, Mônica Hoff, bell hooks, Jagna Lewandowska, Nomusa Makhubu, Svitlana Matviyenko, Samaneh Moafi, Marina Naprushkina, May-Britt Ö̈hman, Samanta Arango Orozco, Daniela Ortiz, Ana Teixeira Pinto, Elizabeth A. Povinelli, Peta Rake, Maristella Svampa, Françoise Vergès, Cecilia Vicuña, Jaime Vindel, and Munem Wasif.
Edited by: Hiuwai Chu, Meagan Down, Nkule Mabaso, Pablo Martínez, and Corina Oprea.
Climate: Our Right to Breathe will be launched at Gothenburg City Library as part of the Ecologies of Art Publishing 12–14 October, 2022. Works by Marwa Arsanios and Daniela Ortiz will be installed at the library between 12 October and 20 November 2022, together with a new commissioned light installation by Katarina Pirak Sikku, referring to the electricity production using water resources on Sapmi territory, which stays at the basis of modern development.
To purchase the publication, please contact K. Verlag, Berlin.