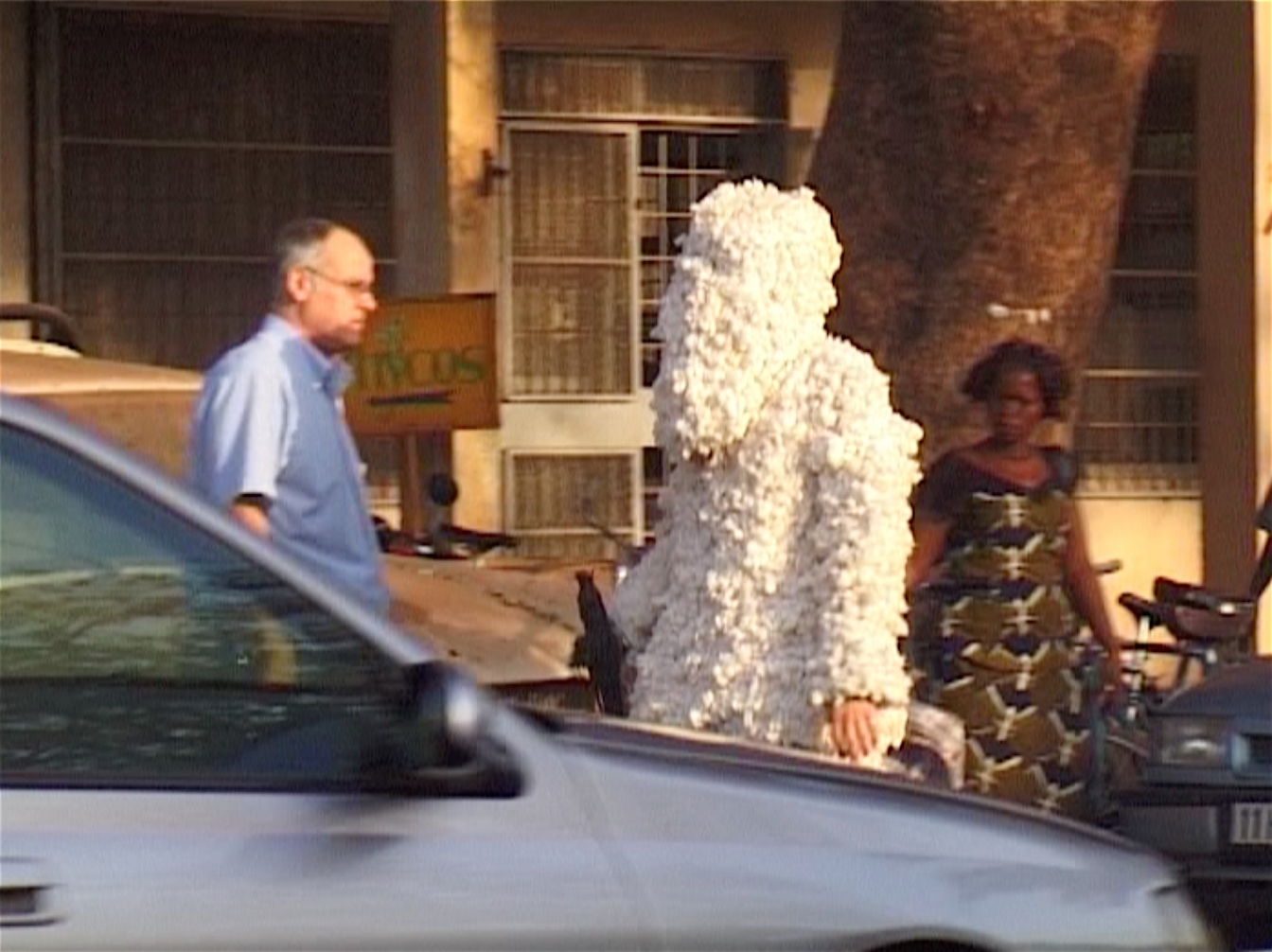 Vincent Meessen, The Intruder, 2005. Image: the artist
Part of Our Many Europes, the exhibition 'MONOCULTURE – A Recent History', curated by Nav Haq at M HKA (Museum of Contemporary Art Antwerp) along with the two-day conference 'Considering Monoculture', organised by Nick Aikens (Research Curator, Van Abbemuseum), Nav Haq (Associate Director, M HKA) and Nora Mahammed (Programmer, deBuren) considered current and historical manifestations of 'monoculture', as well as its implications for art, culture and its institutions. The conference and the exhibition defined monoculture as 'the homogeneous expression of the culture of a single social or ethnic group'. Both programmes sought to approach monoculture through the frameworks of philosophy, linguistics and agriculture, as well as from historical, social, cultural and ideological perspectives.
The following collection of writings, conversations and recorded lectures reflects on both the content and the processes of these two projects. The contributions allow for further comparative analysis of different manifestations of monoculture, as well as their reflections in art and propaganda, which we feel are relevant for societies and cultures today. At the same time, the contributions, read collectively, offer a consideration of curatorial and research practices within museums more broadly.
The conference 'Considering Monoculture' took place in Brussels at deBuren on 27/28 February 2020. It included a series of papers, activities and artistic presentations. Contributors included: Haseeb Ahmed, Mia Doornaert, Nicoline van Harskamp, Jonathan Lambaerts, Olivier Marboeuf, Ana Fabíola Maurício, Vera Mey, Jyoti Mistry, Chantal Mouffe, Philippe Pirotte, Luísa Santos, Philippe Van Parijs, Sophie Williamson, and Mi You.
The exhibition 'MONOCULTURE – A Recent History' took place at M HKA from 25 September 2020 to 25 April 2021. Artists included: Haseeb Ahmed, Hüseyin Bahri Alptekin, Rasheed Araeen, Sven Augustijnen, Belgian Institute for World Affairs, Joseph Beuys, David Blandy, Matti Braun, Lovis Corinth, Luc Deleu, Jimmie Durham, Nicole, Felix Gonzalez-Torres, George Grosz, Jos de Gruyter & Harald Thys, Philip Guston, N. S. Harsha, Nicoline van Harskamp, Hannah Höch, Candida Höfer, Karl Hofer, Ibrahim Mahama, Kerry James Marshall, Renzo Martens/CATPC, Danny Matthys, Vincent Meessen, Maryam Najd, Catherine Opie, Werner Peiner, Charlotte Posenenske, Public Movement, Carol Rama, Oxana Shachko, Åsa Sonjasdotter, Jonas Staal, Mladen Stilinović, Sille Storihle, Papa Ibra Tall, Makhmut Usmanovich Usmanov, Dimitri Venkov, Andy Warhol, and Lynette Yiadom-Boakye. Artefacts from several cultural archives were also on display, including: ADVN – Archives, Documentation and Research Centre for Flemish Nationalism; the Arthur Langerman Archive for Research on Visual Antisemitism (ALAVA); AMSAB – Institute for Social History (the cultural archives of Flanders); KADOC Documentation and Research Centre on Religion, Culture and Society; and Liberas – the heritage centre for the history of the freedom ideal.
Find the exhibition catalogue for MONOCULTURE - A Recent History through the buttons below, ready to download or read online. Available in Dutch and English.